#53 - New Release, LNC, Surfin'Bitcoin, and much more!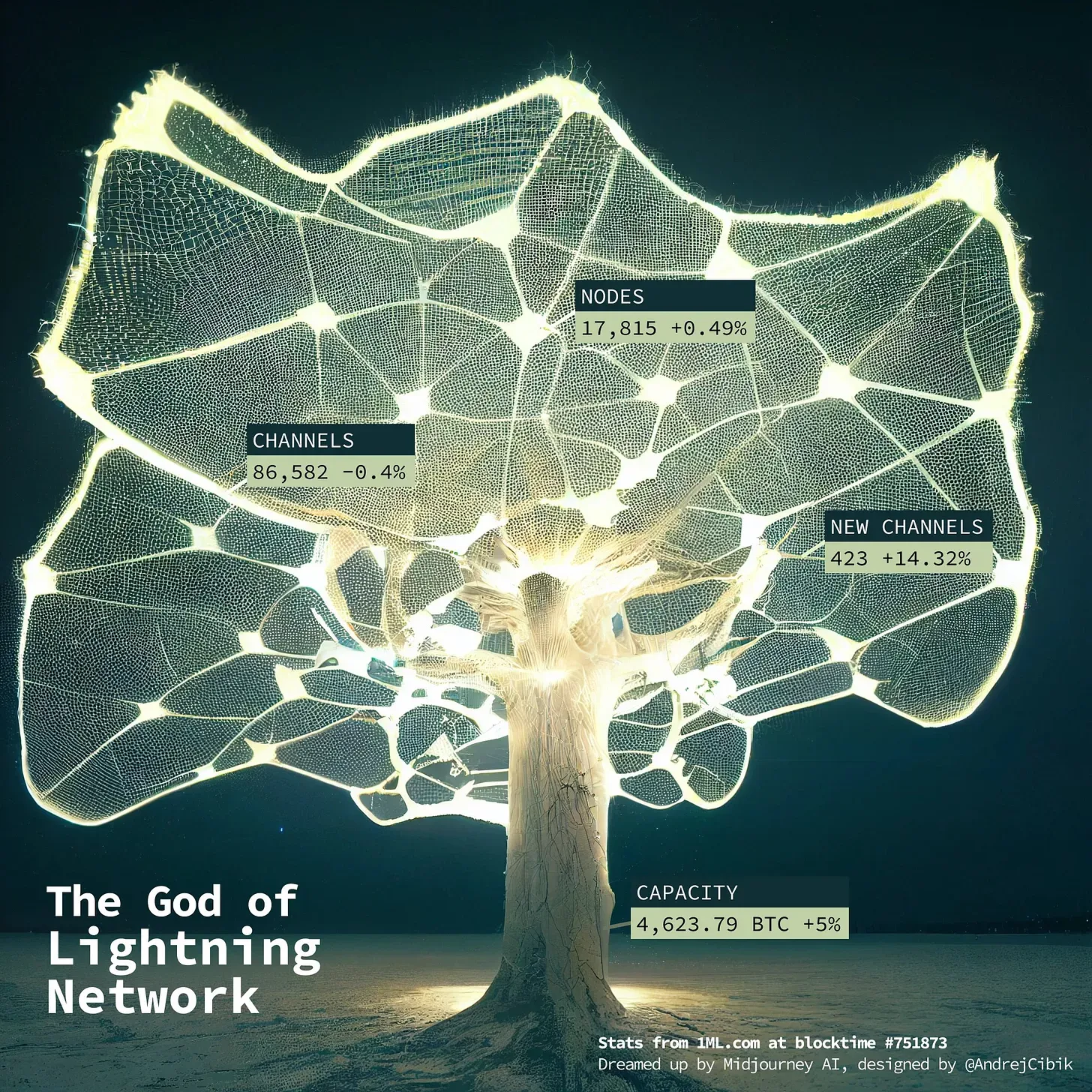 ⚔️ LNM Fam
We're back to school with a new LN Markets release featuring:
🔥 Trading limit 5 times bigger: from 2 to 10 million satoshis (0.1 BTC)
🔐 Additional login option with Lightning Node Connect
🇪🇸🇫🇷 New languages: Spanish & French
⚡️ Simple transfers within different LNM accounts with Lightning Address
✅ Several bug fixes and performance improvements
🥇 Sat symbol adoption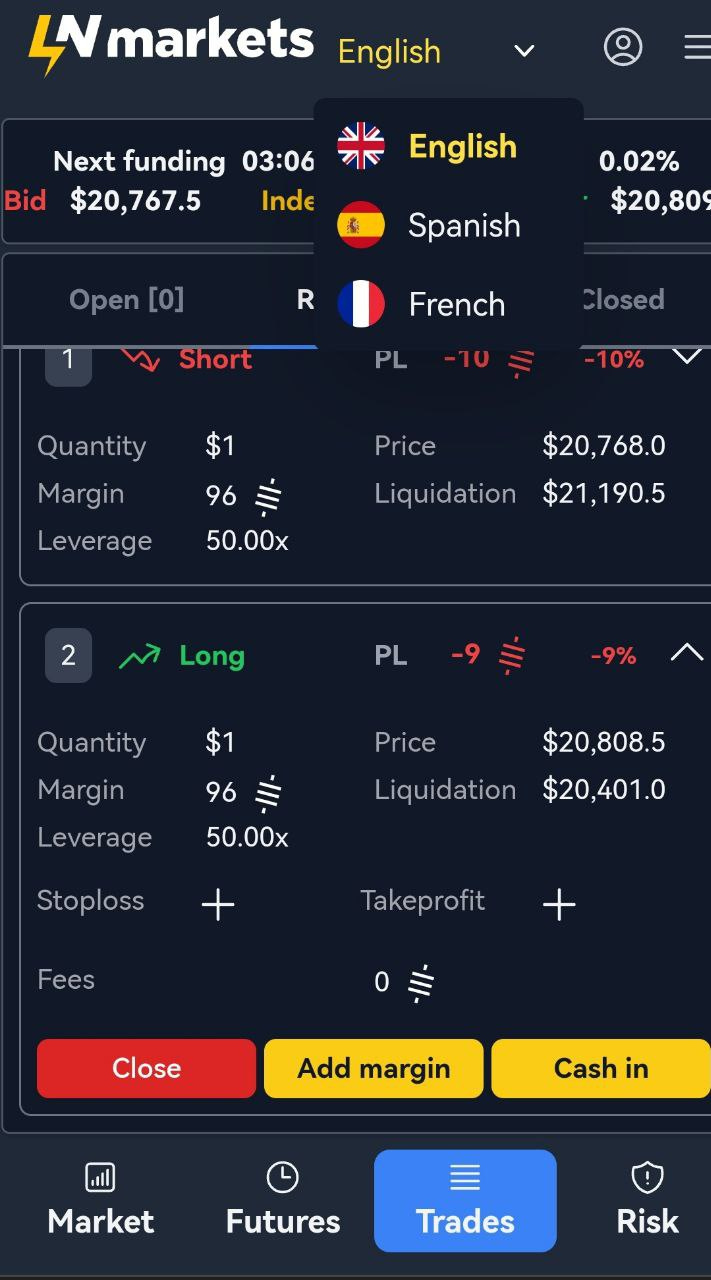 Thank you all for your kind words and warm reception of this new release!
👋 Feel free to say hello to our new Bitcoin/Back-end engineer & coding wizard Lounès!
Miss Kim also joins us as full stack developer from Berlin which makes our team a full-remote very large international conglomerate of 9 plebs 🚀
🧳Part of the team made the trip to Riga to attend Baltic HoneyBadger 2022, and the least we can say is the conference met all our expectations. A huge shoutout to HodlHodl and all the persons involved in the organization for this terrific event! We had a blast attending the various conferences and panels, with a variety of topics and speakers, and just the right amount of controversies and unpopular opinions 🍿.
Riga in itself is also a city very much worth a trip (should you go there, you'll want to go to the Folkklubs ALA Pagrabs on a Saturday night).
Finally, a Bitcoin conference is nothing without all the amazing people that crowd its alleys. On this aspect as well, BHB2022 undeniably killed it. We had the chance to meet so many builders of the Bitcoin space, as well as some friends from the internet, some of who we saw in flesh for the first time! Love you all 🧡
During the conference, Mempool Space also presented the latest evolution of their remarkable product, which now includes a Lightning explorer. Among other things, the explorer shows the hosting location (in terms of ISP) of Lightning nodes (Tor nodes excluded). This graph allowed people to visualize for the first time that a significant portion of the network's capacity is hosted by only a handful of ISPs. This legitimately led to some concerns, as such concentration hampers the Lightning Network's ability to resist censorship (or even failure).
That's why we were pleased to announce during BHB2022 that we will be moving our Lightning infrastructure from AWS to our friends at Nodl Cloud. They are a team of highly competent and principled individuals, and they own and manage their own data centers, which made the switch an absolute no-brainer!
Lightning Node Connect (LNC) is a protocol that allows a node operator to safely and easily connect to a web or mobile application. LNC does not require the node to expose any ports. Instead, the application and the node are connected through a proxy server called the mailbox and the connection between node and application are end-to-end encrypted.
We're happy to share that login with LNC is now available on LN Markets! If you want to try out this secure, private connection between LN Markets and your lightning node (initially just LND, other implementations might follow), click on Login / Lightning Node Connect. Run Lightning Terminal to create a pairing phrase (with admin permissions). The pairing phrase is a unique array of words allowing LN Markets to be connected to your Lightning node. And enter a password, which you will use to later connect your node to LN Markets. You're good to go 🔥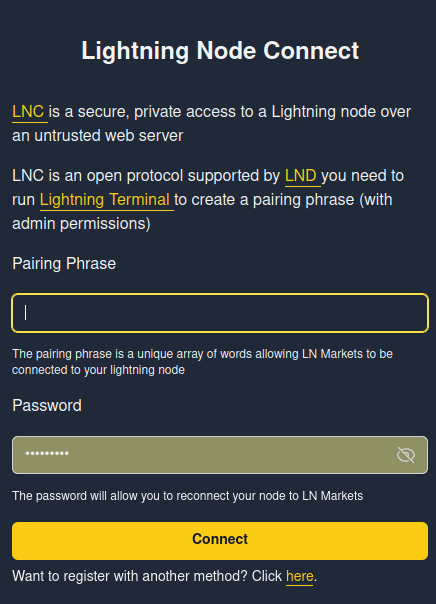 ---
⚡ Latest Strikes
A brief recap of what's new in the Lightning world (full version here). Buckle up!
Wallets & Tools
Alby
Alby announced their new release (v1.15.0). If you're interested in the details of the release, you can read their Twitter thread or the release notes. In a few words: Alby now works in the Tor Browser, and will be even better than before at catching Lightning links such as LNURL or invoices. Notably, Alby will now capture links that were not present when the page was first loaded. A huge and appreciated improvement for dynamic websites (such as LN Markets), which know work even better with Alby.
Mutiny
Mutiny is a new, pricacy-focused Lightning wallet, built using the Sensei architecure. It currently sacrifices features for privacy. For example, it is for now impossible to receive on Lightning to this wallet, because the privacy of the receiver is still limited in Lightning. This will change in the future thanks to things like route blinding, which Mutiny will use to enable receiving in the wallet.
Sending, on the other hand, already has pretty good privacy by default, thanks to Onion Routing. Yet, Mutiny takes it even a step further by spawning a new node every time a new channel is opened. The new channel is unannounced and funded with a whole UTXO coming from an external wallet: no change, no public identity on the network, etc. It's Lightning, but with stealth mode on.
If you're interested, please keep in mind the wallet is still in alpha (or even "barely in alpha").
Papers
Lightning Privacy
This week, a paper claiming that "with the growth of the [Lightning] network the overall anonymity decreases" managed to catch some understandable interest. Turns out the paper made some incorrect assumptions regarding payment routing. One of the author's hypothesis was that source nodes always select the shortest path, which is incorrect on many levels:
multipart payments (where one transaction follows multiple paths) is a thing since a lot of time,
the path selection by the sender doesn't only consider fees or path length. Some randomness is also added specifically to break payment path predictability and prevent such anonymity issues.
Ecosystem
Let the Geyser Erupt!
Geyser just announced the first round of their grants! The platform allows creators, educators and projects to collect funds. It also leverages the interoperability enabled by the Lightning stack to funnel money from outside the platform. You can now donate to a campaign without even having an account on the platform where the campaign is running. Refreshing!
If you enjoyed this recap, you can show your appreciation by throwing a few coins in the jar. Thank you!
---
🏄 Surfin'Bitcoin
Josselin Tonnellier and his team at StackinSat just organized Surfin'Bitcoin, one of the largest Bitcoin-focused conferences in Europe, gathering around 2,000 people from all around the globe in Biarritz, the French capital of surfing.
We were stoked to be part of this event and had a lot of fun discussing the future of Bitcoin markets and PoW vs PoS on stage (video soon). We enjoyed the cool parties, hanging out with the plebs and still managed to attend some great talks such as this one of Pierre Rochard on Mining rewards:
What is Surfin'Bitcoin?
Josselin Tonnellier: Surfin'Bitcoin is a Bitcoin only event organized by StackinSat. The first two editions were 100% in French, and thanks to the travel restrictions being lift off, we also add international speakers for this third edition.
This year, we had two conference stages, a generalist one in French and an expert stage in English. We had also two workshop rooms for a total of 90 hours of content. 65% of workshops and 50% of the conference (keynote and round tables) was in English.
Our goal is to explain Bitcoin and provide content to everyone, from the precoiner to the expert passing by economist, traditional investors, bankers, politics, journalists….
We also want to offer a shilling point for the ecosystem to meet and do networking in a chill and relax environment. The venue of the conference is seating on the main beach of Biarritz with the rooftop facing the ocean and the sunset. You can see the surfers riding the waves while making wave to ride the Bitcoin adoption wave.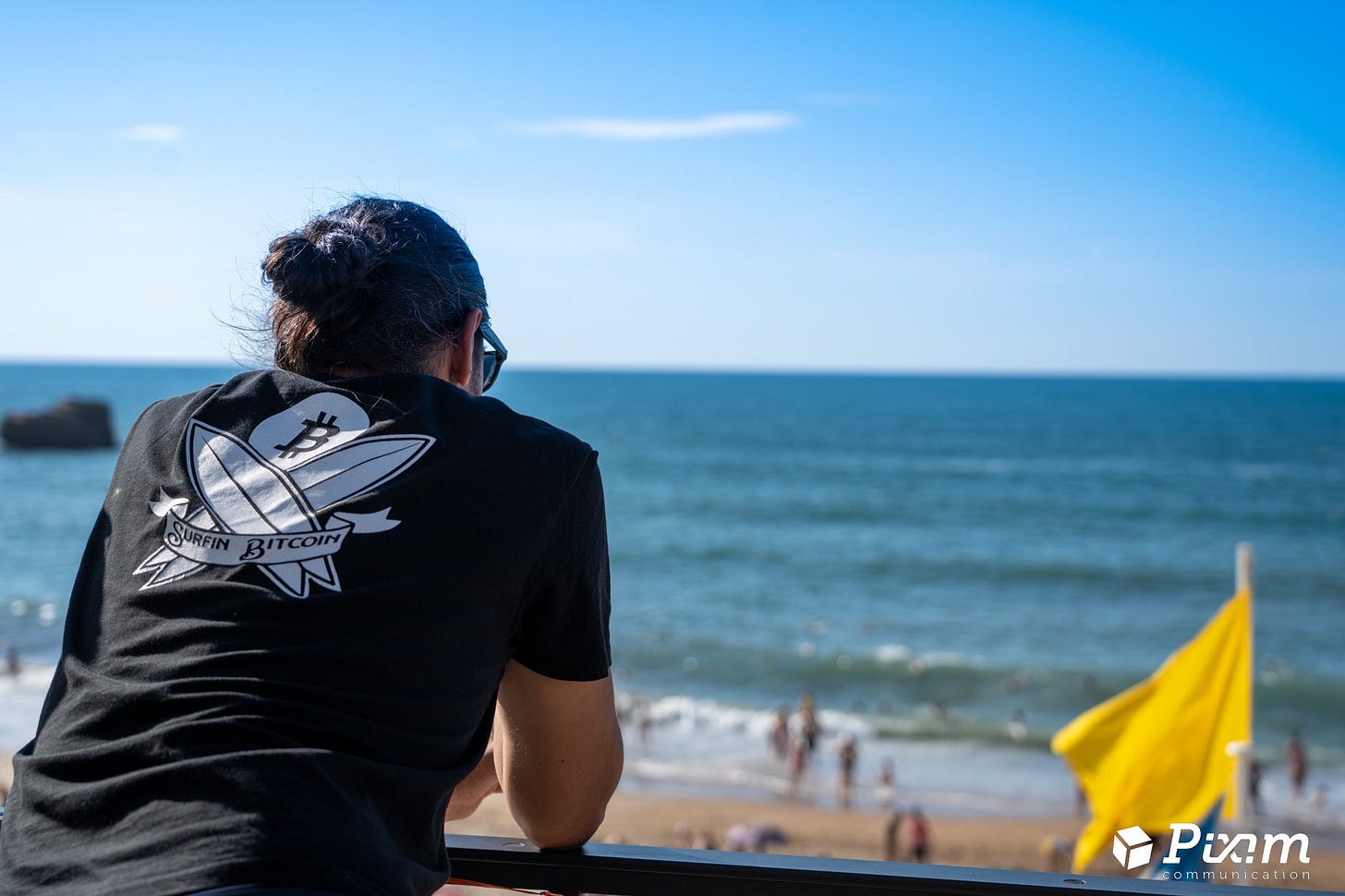 What are your highlights of this edition?
Josselin Tonnellier: The three day event had two days of conferences and one free day to give a chance to locals and tourists to have their first step down the rabbit hole. We had over 700 participants to the « treasury chase » where peoples have to travel around the city to discover QR codes and get some introduction to Bitcoin with a little video and a question. We also had close to 800 peoples to watch the documentary "Satoshi's Mystery".
We are very happy with the speaker lineup and the quality of the panel and keynote, the quality of the workshop was very good as well, so thanks a lot to all the speakers for their involvement.
What's your vision for next events?
Josselin Tonnellier: We want to address all the public, from the pre-coiner to the Industry professional passing by the hardcore Bitcoiner and the crypto enthusiast (you know, the moon lamb boy buying jpegs who lack Bitcoin education). We also want Surfin'Bitcoin to be entertaining and educative, and welcome families. We want to include more activities with Bitcoin as a pretext to get together and keep the networking is a chill a relax environment A bitcoin festival is our goal since the beginning with a surf competition, live music, art and graffiti, etc.
---
🧐 Cool stuff to read
🔬 Fantastic research piece on the Lightning Network by Lyn Alden
⛏️ Dig in the benefits of Bitcoin mining for the energy industry with this thorough report form Arcane Research
---
⚡ Bonus
👑 Bitcoin art Dreamed up by Midjourney AI and designed your next Bitcoin graphic artist Andrej!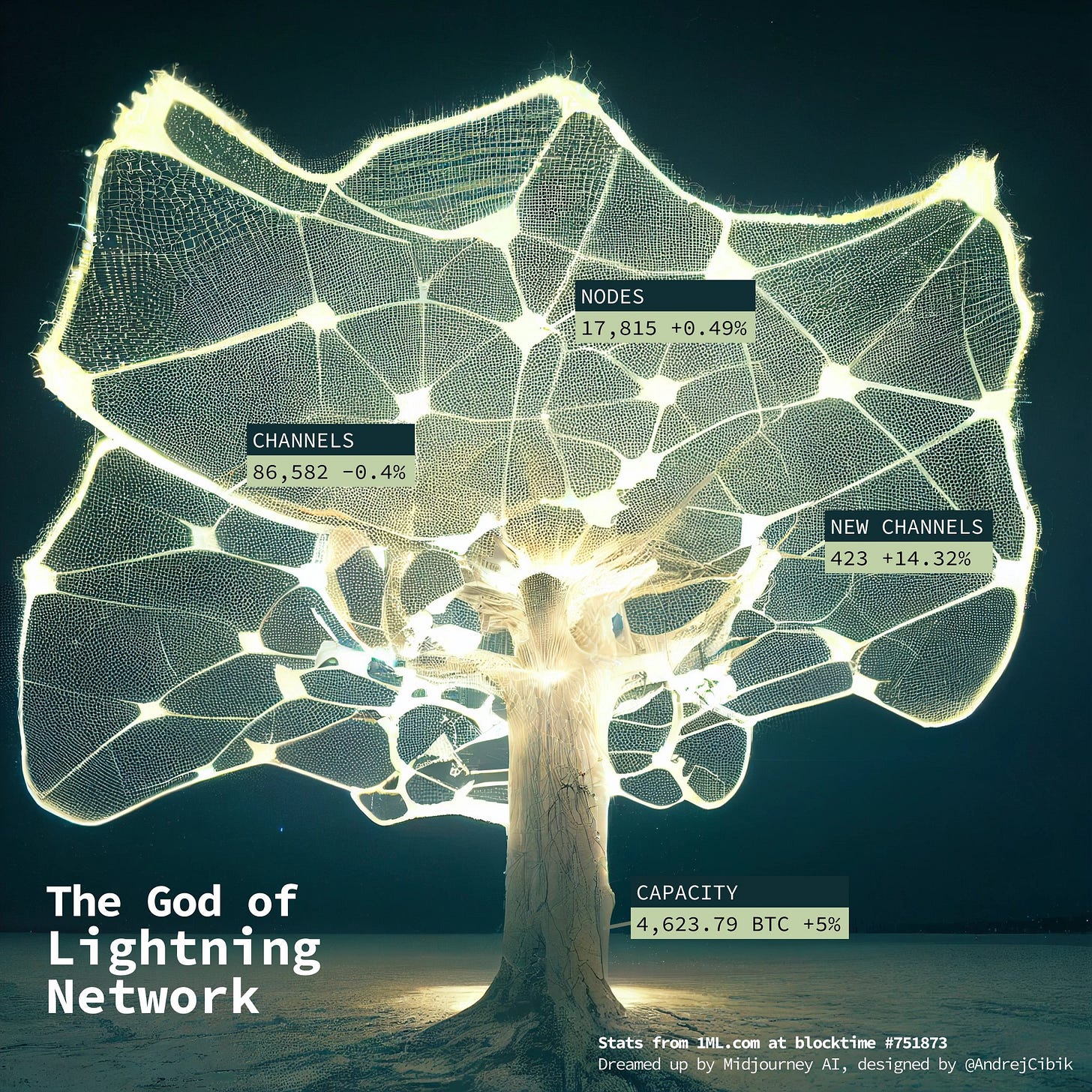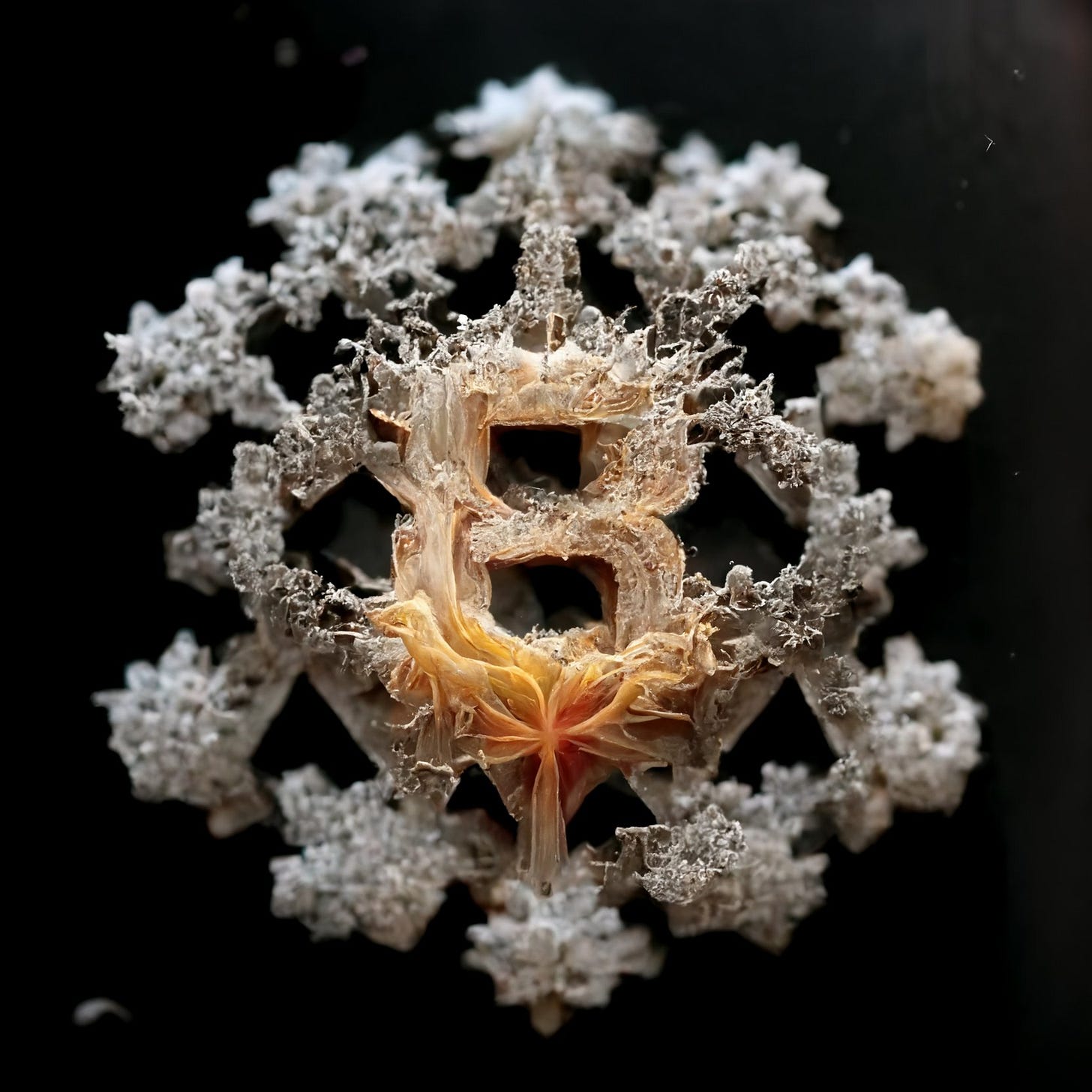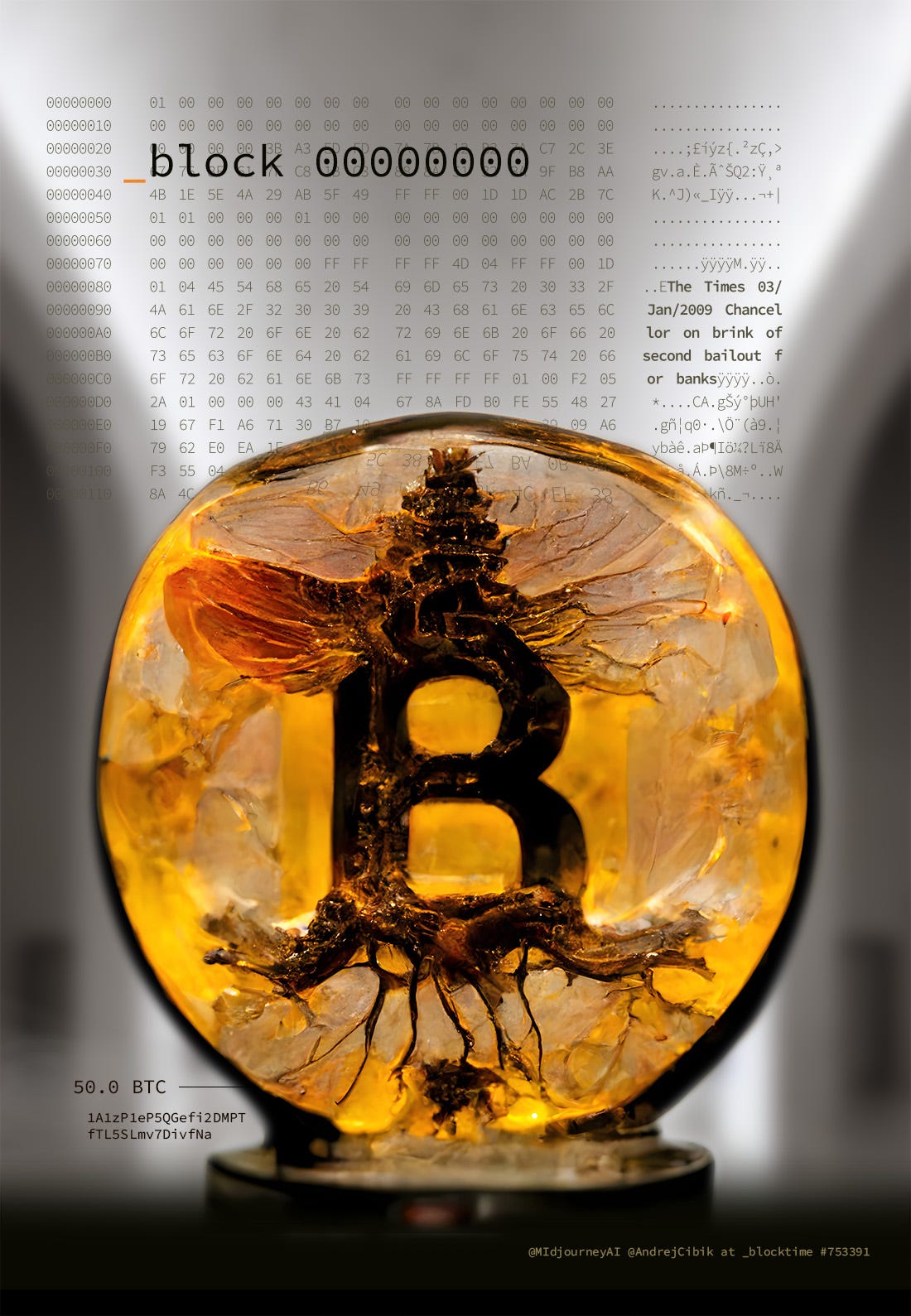 Feel free to DM Andrej for more info on his work!
📺 Just in case you missed Giacomo Zucco's latest gem
🌕 And yet another ATH for Bitcoin!
---
🤝 Reach out on Twitter, Telegram and Discord to build together the future of finance on Bitcoin!